We never know what's going to happen, do we? March Madness, upsets all over the place, teams coming out of nowhere, stars born overnight, coaches coaching their way into the big money. It's a three-week crapshoot, isn't it?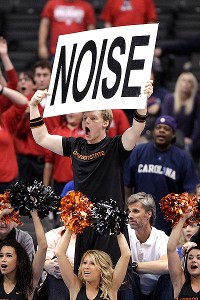 AP Photo/Jae C. HongWell, yes, March Madness will be noisy. And then the games will start.
Not really. The idea that we're about to embark on the craziest three weeks of the year sells a lot of advertising and creates a lot of interest, but remember: There's a lot of dream-selling going on, too. Just like most years, there are only six or seven teams with a legitimate shot at winning the whole thing; and, just like most years, they come from the same familiar places.
The last non-BCS school to win a title was UNLV in 1990, and nobody was making horrible slipper metaphors for Jerry Tarkanian and his guys back then.
But is this the year for all of that to change? A national title for a so-called mid-major is the next logical step, isn't it? One mid-major in the Final Four two years ago (Butler), two last year (Butler, VCU), so it makes sense, doesn't it?
No. Not even close. Kentucky's going to win. Unless North Carolina does.
But there's nothing wrong with believing. And there'd be nothing better than being wrong. So …
Sixty-Eight Not-So-Self-Evident Truths
1. One team you don't want to challenge to a 400-meter relay: Missouri.
2. If you're not looking at the television and someone says, "Wow, that guy just banked in a 3," the proper question in response is: "Cool -- Long Beach winning?"
3. And now a word on Northwestern: No.
4. An almost mythical convergence of man and place: Montana's bearded 7-foot forward Derek Selvig, from Glendive, Mont.
5. Glendive's motto: "Good People Surrounded by Badlands."