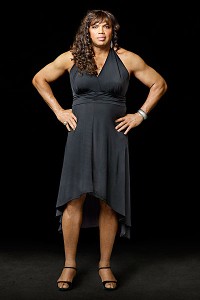 Ketchum CommunicationsCharles Barkley dons a dress for his new ad campaign for Weight Watchers. Getting in shape isn't only for women, he says.
Charles Barkley admitted that his weight had gotten out of hand and turned to Weight Watchers to try to lose weight.
"I've always joked and complained about my home state of Alabama being fat," Barkley, the studio analyst for Turner Network Television's NBA coverage, told Page 2 a few months ago. "Well, I forgot that I was fat."
Barkley started the program in the fall and now has lost 42 pounds.
Starting in April, Barkley will unveil a new set of TV commercials and here's a first look at a photo in the ads.
In the "Lose Like a Man" campaign, Barkley provides commentary on topics including the "man food" he is never deprived of, reasons why guys don't diet, dieting on your own and being a role model.
"You can't give fat people small meals and think they'll stick to the plan," Barkley said. "I had to learn how to change my eating habits. Let's be real: You see anyone who gets fat eating fruits and vegetables? So I'm starting to eat more of them now!"