So apparently there is an NFL game Thursday night. Really. Bears at 49ers. A 4-4 team at a 3-5 team. Not wildly exciting. But in hopes of getting pumped up for the game -- I mean, I don't want to complain about NFL football being on in the middle of the week -- I called up my old pal Hank Williams Jr. Here is what my rowdy friend had to say/sing.
Well it's Thursday night and we're ready to watch!
The only night of TV NBC cannot botch.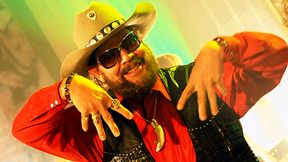 It's "The Office" and "30 Rock" that's comin' your way.
Huh? There's a football game? What did you say?
I guess we gotta get ready, even though this game has no bite.
Because 49ers-Bears might make us DVR those tonight!
So get ready. To question Lovie.
Oh, really, there's some footbaaaalllll? A Thursday night op-tiooooonnnn?"
We've got some guy, and another guy
I guess they're the announ-cerrrrrs.
Cutler and Smith are all set. The crowd is not psyched.
All my bored and single friends might be here on Thursday niiiiiight.
Thanks, Hank. I'm totally pumped now.