From Jim Tressel's natty sweater vest to Bill Belichick's homeless-man sweatshirt, coaches have come up with some singular signature styles. But down on Tobacco Road, there's only one coaching accessory that matters: Roy Williams' necktie.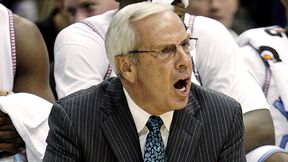 Williams wears a different tie for just about every UNC game, most of them supplied by North Carolina menswear designer Alexander Julian -- the same guy who added the argyle trim to the Tar Heels' uniform (not bad) and who also designed the Charlotte Hornets' original purple-teal uniforms (very, very bad).
Anyway, Williams' neckwear is a source of mucho fan discussion down in Chapel Hill, so it was inevitable that someone would devote a blog to the subject. That someone is UNC blogger Benn Wineka, who has created the Roy Williams Tie Tracker and plans to document every piece of cloth Williams wears around his neck this season.
Meanwhile, the Tar Heels are already 2-0 -- undefeated, but never untied.