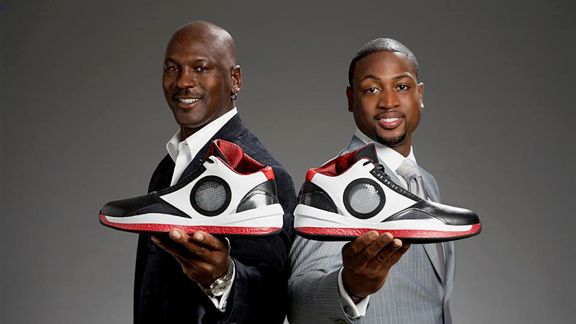 Listening to "Mr. 305," we sipped on mojitos at the Fontainebleau, rode on a 70-foot yacht, cracked jokes with friends -- all for the top-secret, undercover unveiling of the AJXXV in Miami on Wednesday. Or, as they are calling the shoe, "Air Jordan 2010."
Every Jordan experience is different. For the last one, the makers of the shoes had us playing basketball in the United Center, showing us what it would feel like to be him for a minute. Here, we were asked to show up in Miami for the official announcement, but weren't allowed to mention anything until late Wednesday.
We were led into a makeshift restaurant set up for the news conference. Outside, a Ferrari was parked in the driveway. Inside, 40 chairs and a stage. In came Tinker Hatfield, the MJ of sneaker design, and Mark Smith, the creative director of Jordan Brand (a division of Nike). They talked. We learned.
Then Dwyane Wade stepped on the stage. He came to receive the torch being passed. The shoes were black and white, with red trim and a window literally in them.
Then …
Jordan walked into the room.
The rest of the night I'll get into in my column next week …
Oh, by the way -- the Air Jordan 2010 will be released nationwide on Feb. 13 for a suggested retail price of $170.