Random observations from Thursday night's UFL game in East Hartford, Conn.:
• New York Sentinels coach Ted Cottrell burned two timeouts less than five minutes into the game.
• "Welcome to the Jungle" was played no fewer than eight times over the PA system. Obviously, someone forgot to bring the "Jock Jams" CD.
• Several "Let's go Whalers" chants could be heard more than 12 years after the NHL's Whalers left Hartford. Never mind that this wasn't a hockey game.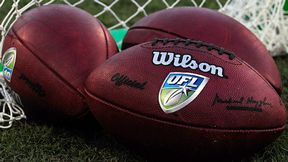 • Florida Tuskers punter Todd Sauerbrun booted a ball 25 yards into a trash can on the sideline. No wonder he showed up to his first NFL training camp with the vanity license plate "HANGTIME." You, sir, are a cool customer.
• Sentinels punter Scott Player still rocks the single-bar facemask, pulled down too low.
• Tuskers quarterback Brooks Bollinger (19-of-27, 215 yards, two touchdowns) could start for the Raiders.
• Announced attendance: 5,201. That's being generous.
• The Tuskers, 5-0 after Thursday's 24-6 victory, already have clinched a berth in the first UFL championship game. Their roster is loaded with talent, and they should lock up their GM with a long-term deal.
• The 0-5 Sentinels don't have the players to compete in this league. Their GM needs to be fired immediately.