Page 2 is celebrating the 40th anniversary of "Sesame Street" with a story about athlete appearances on the popular children's program.
This got us wondering about which athletes equate to selected "Sesame Street" characters.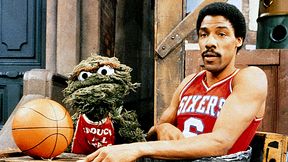 Grover : Dwight Howard
Both have superhero alter egos and experience similar results.
Kermit the Frog : Aaron Rodgers
It's not easy being green, especially under a pile of opposing 300-pound linemen.
The Count : Roger Goodell
We just think it would be cool to hear the commish speak like the Count. "He's suspended two games. He's suspended four games. That's six games! Ha, ha, ha, ha."
Snuffleupagus : Alex Rodriguez
The questions about both being invisible on the big stage have finally been answered.
Bert and Ernie : Peyton and Eli Manning
Admittedly, the comparison would be better if the Muppets' expressions were even half as goofy as those of Peyton and Eli.
Big Bird : Chad Ochocinco
From Wikipedia: "a slightly quirky outlook on the world, he represents a 6-year-old child who questions everything." Applies to both, no?
Guy Smiley : Dick Vitale
Boundless exuberance.
Oscar the Grouch : Bill Belichick
Safe to say neither were John Denver's muse for "Sunshine on My Shoulders."
Amazingly, it took six people to write this item: Julie Turner, Kurt Snibbe, DJ Gallo, Toby Mergler, Cam Martin and Thomas Neumann.