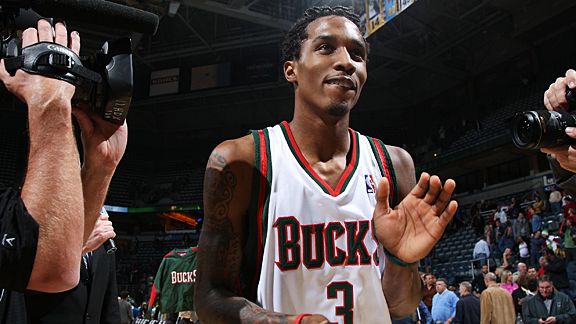 I returned home to Wisconsin this weekend to reconnect my sports roots. What better way to make myself whole again than root for the Badgers, Bucks and Packers with friends and family?
Saturday, Madison
11 a.m.-2 p.m.: Wisconsin-Michigan kickoff at Camp Randall Stadium. We've been here for a while now, but we don't actually see any game action for another half hour. It's bad luck to prematurely curtail tailgating. We take our seats in time to see the great 1999 Badgers team honored. An earsplitting standing ovation pours down in appreciation of history, tradition and Ron Dayne, the prototypical Wisconsin phatback. Camp Randall is swept away by The Wave. Wisconsinites may be large and bratwurst-boned, but they're an active pack of Badgers who attack with precise coordination. Michigan trails 42-24, yet RichRod is "gamely" calling timeouts to get the ball back. Camp Randall boos louder and louder with each futile stoppage of the clock. The Badgers run it down to under 2 minutes before taking a timeout to set up a field goal. The one remaining Michigan fan boos sarcastically. Kick is good, 45-24, and that's your final. A great start.
Saturday, Milwaukee
8:00 p.m.-10 p.m.: The first quarter is so boring that the highlight is sneaking down the half-empty Bradley Center from the cheap seats to right behind the Bucks bench. I'm fired up to see Bucks rookie Brandon Jennings, but his showdown with Golden State's Steph Curry doesn't really get going, and Jennings goes scoreless in the first 12 minutes. The Bradley Center has morphed from a morgue into a nightclub as Jennings flips in a runner, hits a pullup 3, drives in for a layup, jumper, another trey and an alley-oop to Andrew Bogut. This kid is electric. The Warriors lead 108-107 with 4:20 to play. But Jennings answers with a go-ahead bucket. He's totally gassed but Scott Skiles won't look at him. "Go get it, rook. You ain't tired." And he delivers, finishing with 55 points in a 129-125 victory. Bucks are 5-2 and in first place! We have found a new local hero.
Sunday, Green Bay
12:12 p.m.-6:33 p.m.: We arrive at Lambeau, bust out the grill and cooler and commence tailgating. Wearing my Packers gear, I begin to feel like I'm betraying Brett. I immediately purchase a "4-Pack" Favre jersey. Yep, it's split into ATL, GB, NY Jets and Vikings sections. But as much as today is about recapturing the past, it's also about reconciling for the future. Not much action until late in the second half. Spencer "Vulture" Havner catches a 2-yard TD from new leader Aaron Rodgers. That's 14 points in the last 2:25. Maybe the scoring binge is just making me dizzy, but I'm reinvigorated by the buzz of the euphoric Lambeau crowd. The Packers win 17-7.
A clean sweep, a 3-0 weekend for the Dairy State. My cheesehead and heart finally in harmony.