Editor's note: New York-based writer Howard Megdal is monitoring all 24-plus hours of ESPN's College Hoops Tip-Off Marathon for Page 2. Here's his second report:
8 a.m. ET: Niagara 76, Drexel 69
What you need to know: Was Tuesday the coming out party for the MAAC? Niagara was fun to watch, and won at Drexel's tempo. … If Niagara is playing, Calvin Murphy needs to be on the sideline. I like to think Calvin Murphy is at every Niagara game. The team should be called the Niagara Murphys. He could even twirl the baton at halftime. … Both Drexel and Niagara will make life difficult for plenty of teams this season.
10 a.m.: Clemson 79, Liberty 39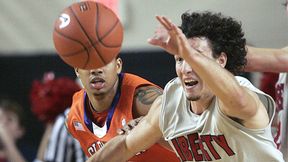 What you need to know: Crowds can't do it all. Liberty was a sea of red, yet Clemson promptly went up by 20 in the first half. … I don't know who missed Seth Curry more, Liberty or the viewers. … Give Liberty fans credit, there was a full house and loud cheers, even when Clemson was up 70-33 with three minutes to play.
Noon: Siena 59, Northeastern 53
What you need to know: Northeastern is a very good basketball team. This really surprised me. I expected they'd be huddled around an old picture of Jim Calhoun, lamenting what might have been. … Matt Janning doesn't need much space to score. But Siena is also legit, a mid-major that doesn't lack athleticism. … Janning alone wasn't enough to overcome Siena.
2 p.m.: Tulsa 59, Arkansas-Little Rock 45
What you need to know: I was ready to be overwhelmed or underwhelmed by Tulsa's Jerome Jordan. Instead, I was whelmed. Jordan does some things quite well: moving with the ball in the post, passing, even the square-up 17-footer. But he appears to be fundamentally horrible at rebounding. What will he do against big men of substance? Tulsa reminds me a lot of the Georgetown teams with Othella Harrington, pre-Iverson, when good center opponents collapse inside with no reliable Plan B. Maybe that's enough to win Conference USA.