Editor's note: New York-based writer Howard Megdal monitored all 24-plus hours of ESPN's College Hoops Tip-Off Marathon for Page 2. Look for his all-encompassing roundup Wednesday afternoon. Meantime, here's his final blog post:
4 p.m.: No. 20 Georgetown 46, Temple 45
What you need to know: This is a game Georgetown absolutely would lose last season. But instead of turning the ball over late, the Hoyas got the ball to Greg Monroe, who drove for the winning score, then stifled Temple, again with Monroe at the center. Seems obvious, given the presence of an elite center, right? Somehow it evaded Georgetown throughout its slide from 10-1 to 16-15 last season.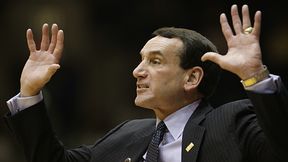 6 p.m.: No. 8 Duke 101, UNC Charlotte 59
What you need to know: Every November, there's a game that tells us exactly how good Duke is. Sometimes, it's a game in which Duke surprisingly struggles. Usually, it's a game in which Duke takes a decent opponent and decimates it. This game falls squarely in the latter category.
8 p.m.: No. 2 Mich. State 75, Gonzaga 71
What you need to know: I'm still convinced Michigan State is elite. Gonzaga, a young team playing in a hostile environment, stayed in it to the end. Kudos to the Spartans band for a truly extraordinary version of the "Dudley Do-Right" theme.
10 p.m.: No. 1 Kansas 57, Memphis 55
What you need to know: An unexpected battle, with Josh Baskin from the movie "Big" coaching Memphis and both teams adapting nicely on defense. Incidentally, Tulsa is not ready to supplant Memphis atop Conference USA. I was thrilled to see the top team in the country have to grind to the final shot. It was an appropriate bookend to UCLA fighting into double overtime at Pauley Pavilion -- a perfect day of basketball.