Editor's note: New York-based writer Howard Megdal monitored all 24-plus hours of ESPN's College Hoops Tip-Off Marathon for Page 2. Here's his all-encompassing roundup: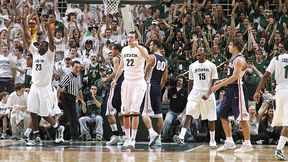 Is there such a thing as too much college basketball?
On Tuesday, I answered that existential question, and the answer is a resounding "NO!"
Despite 24-plus hours of consecutive hardwood coverage -- indeed, 39 consecutive hours without so much as resting my eyes -- I sat transfixed as No. 1 Kansas and Memphis concluded with a wild finish. I needed sleep, but I wanted hoops.
In other words, basketball didn't fail to keep my interest. Rather, the human body's physical limits failed to keep my eyes open. This shouldn't come as a surprise to anyone who truly loves the sport.