On Wednesday afternoon, I received this e-mail from co-worker Shannon Cross:
"Just heard that Mark Cuban will be hosting 'Monday Night Raw' on Dec. 7. Interesting … "
"Really?" I thought. I knew that Cuban, the Dallas Mavericks owner, is a showman and loves being in the spotlight.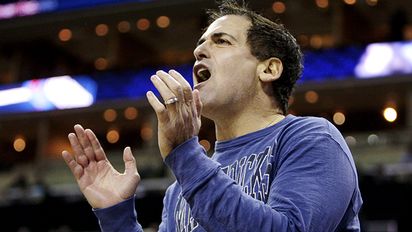 I know that he's into mixed martial arts. And his television network, HDNet, is a big proponent of MMA.
But pro wrestling?
So I asked Cuban about it Wednesday night. (FYI, he prefers interviews via e-mail. I kid you not.)
"I did 'Raw' in 2003. I was RKO'd [that's a wrestling move, non-wrestling fans] by Randy Orton," said Cuban, who is 51 years old and stands 6-foot-3, "so I'm not a rookie at this stuff."
But seriously, Mark, are you a fan of wrestling?
"I grew up with Bruno Sammartino and George "The Animal" Steele and have been a fan of WWE for a long time," he said. "I even did a video with current champion John Cena when he was wrestling in Louisville to help him break into the WWE, long list of fun stuff."
Cuban isn't giving up on his interest in mixed martial arts, though. He believes both wrestling and MMA will "live long and prosper."
So the big question is, who would win in a fight? Cuban or WWE chairman Vince McMahon?
"Vince and I are friends. I love him and his approach to life," Cuban said. "He has about 50 pounds on me, but I think I could hold my own. :)"