Earlier this week, Seattle Seahawks head coach Jim Mora sent a list of 17 grievances -- yes, 17 grievances -- to the league office about the officiating in Sunday's Seahawks-Cardinals game, which the Cardinals won 31-20 after trailing 14-0 early.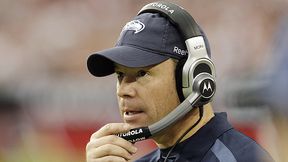 Among them? A pass-interference call on Marcus Trufant against Larry Fitzgerald, and a play in which Arizona defensive tackle Darnell Dockett appeared to press on Matt Hasselbeck's neck while getting up off the Seattle quarterback.
Here are the other 15.
3. Larry Fitzgerald is way too strong for a wide receiver. He could hurt someone. He should be required to play linebacker.
4. This was our second game on the road in three weeks. What gives?
5. We got a bad spot in the second quarter. We got a first down on the play, but I think we were another quarter-yard down the field.