I didn't have a vote for Cy Young this year -- for some reason, I didn't get a ballot for anything this season -- but I would have picked Tim Lincecum as well. He won only 15 games but that's because the Giants couldn't score any runs. Meanwhile, he threw substantially more innings than Chris Carpenter and struck out way more batters and allowed far fewer baserunners than Adam Wainwright.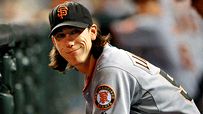 Most importantly, he had the coolest commercial in baseball, last spring's ubiquitous "MLB 2K9" ad in which Lincecum teaches his digital doppelganger some valuable big league lessons. As Rich Aurilia said of the digital Lincecum in spring training, "The likeness of it is pretty similar, but it looks like pre-Cy Young Timmy, not post-Cy Young Timmy. They need to trim him up there. The hair is kind of ratty on the little video guy. Tim still has the long hair but it looks a little manicured ... He had somebody clean him up pretty good."
Flesh and blood Lincecum went on to nearly pitch the run-challenged Giants into the playoffs and won his second consecutive Cy Young Award and also picked up his first Jeff Spicoli award. So what might the "MLB 2K10" commercial look like next year? Glad you asked.