This weekend is WWE's Survivor Series in the American Airlines Arena in Miami.
Do you think this guy, who is 6-foot-8 and 360 pounds and posing with a WWE championship belt, could survive against the brutes in pro wrestling?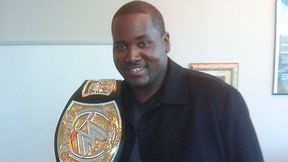 "I'm not really an athlete," said actor Quinton Aaron, who portrayed football player Michael Oher in the movie, "The Blind Side." "I played football in the 9th grade for one semester. I wasn't good at it. When we broke from the huddle, the guy next to me on the line had to tell me what to do."
So it's surprising how well the Bronx-born Aaron, who previously played mostly bouncers and bodyguards in a handful of movies, looks like a natural on the big screen.
The movie, which costars Sandra Bullock and opens Friday, is the true story of Oher, a homeless teenager from a broken home who was taken in by a well-to-do family who helped him fulfill his potential. He then was drafted and signed by the NFL's Baltimore Ravens this spring.
Aaron, who has been a big dude his whole life, had to get in shape for the movie. The 25-year-old spent eight weeks to drop from 472 pounds to 372 pounds. "I inspired others in the cast to lose weight also," said Aaron, who stopped by ESPN this week. "They were cheering me on."
Aaron still hasn't met Oher but he hears they are a lot alike: soft-spoken and very focused. Now, Aaron wants to make movies with Will Smith and Denzel Washington.
So how about pro wrestling? Aaron just laughs.
"Back in the day, I wanted to be a wrestler but not so much anymore," he said. "I would, however, love to be a special guest on one of the episodes someday!"