Joe Cada's life has been a whirlwind since he became the youngest player ever to win the World Series of Poker's main event on Nov. 10.
For his triumph, Cada won $8.55 million, a sum to be shared with backers who paid for his entry into the WSOP. Meantime, the 22-year-old Michigan native is acclimating to his newfound celebrity, making the rounds on national talk shows ranging from CNN's "American Morning" to "The Late Show with David Letterman."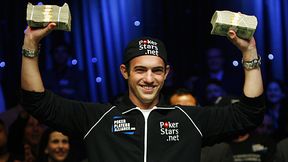 He's living his dream, and we're sorry we missed the victory celebration.
Cada's victory tour pulled into Bristol on Thursday, and the reigning king of Texas Hold 'em squeezed Page 2 into his schedule -- even as his mind was likely wandering to Michigan Stadium, where he has plans to watch his beloved Wolverines as they try to stun rival Ohio State on Saturday.
Page 2: How has your life changed since winning the World Series?
Cada: It's been pretty crazy. I don't get to sleep in anymore. A bunch of media, running around, media, media.
What has been the biggest "wow" factor so far?
Probably Letterman was the biggest "wow," and I'll also get to be on the sideline for the Michigan-Ohio State game, which is pretty sweet.