Even Chad Ochocinco has tried to help.
Before the Texans and the Bengals played on Oct. 18, Ochocinco invited Andre Johnson to his home in Cincinnati where he tried, unsuccessfully, to get Houston's freakishly talented wideout to join him on Twitter and Ustream for some much-deserved pub. Instead, Johnson used all of his athletic abilities to duck, shift and spin away from Chad's ubiquitous camera lens and keyboard. It figures: Johnson has led the NFL in receiving yards per game since 2006 while simultaneously shunning the receiva diva style that permeates the league's loudest, neediest group of players.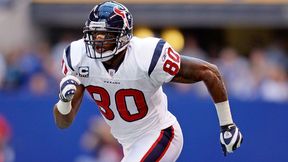 "I just don't get caught up in who gets the most attention," Johnson told me. "It's not that I don't care or don't have an opinion, I'm just not the kind of person who really worries about that kind of thing." Thank god, say his teammates.
"The crime of it all is, in our sports culture we expect our stars to be loud, outspoken and outrageous," says Texans guard Eric Winston. "Andre has shown the league that, hey, you can be the best wide receiver in football and -- guess what? -- you don't have to act like an a--hole."
In truth, the only label Andre Johnson hates is "quiet." Why? Probably because he's not. He simply doesn't warm up to everyone immediately, and because that makes our job in the media a little harder, a little more complicated, we tend to dismiss players like Johnson as "quiet." But a few weeks ago, while working on the current cover story of ESPN The Magazine, I found him to be thoughtful and funny and an unquestioned leader in Houston.