Real Salt Lake took home the MLS Cup on Sunday in thrilling fashion by edging the Los Angeles Galaxy on penalty kicks. So, naturally, the biggest soccer story in America on Monday is regarding David Beckham. He has announced he will return for a fourth MLS season next year, which is great news for the perpetually developing league. But that's not all. He also said he plans to exercise an option in his contract that allows him to buy an MLS franchise. We here at Page 2 love this idea and wanted to help out by suggesting a few places for the team to be located.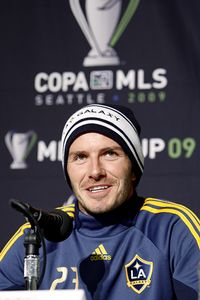 Austin, Texas: Warm weather, great people and plenty of movie production companies for Beckham to become involved in. Plus, his wife is already burnt-orange, so the locals will love her.
Miami: South Beach has become the place to be for famous sports owners, and it would be fun if Posh Spice and Jennifer Lopez started a diva feud. A lip-synch-off would be the only fair way to settle it.
Washington: D.C. could support a second MLS franchise, and Beckham's BFF, Tom Cruise, already has cast some strange spell over the local sports teams that he could use to get his friend whatever he wants.
Detroit: It would be nice if at least one football team in town had a chance to succeed. Plus, the Beckhams love being part of "the scene," and when you think of glitz and glamour, you think Detroit.
New Orleans: The Beckhams have showed a real love for getting naked in ad campaigns. Mardi Gras would give them a chance to truly pursue their passion.
Hollywood: It's where the Beckhams belong, and it would prevent Beckham from having to engage in his most arduous and traumatic task: finding a new hairstylist.
London: If the United States is going to be serious about soccer, everyone knows its league needs to be based in Europe. Placing Becks' team in London could start that transition.