New York Knicks guard Nate Robinson and actor/comedian Will Ferrell are an unlikely duo, but since the reigning NBA Slam Dunk champion started hanging out on the set of Ferrell's new comedy "The Other Guys" a few months ago, the two have become buds. So it was no surprise that Robinson was looking to impress his new friend by shooting 7-for-11 and scoring a season-high 19 points on Sunday when Ferrell, co-stars Mark Wahlberg, Rosie Perez and Brooke Shields showed up at Madison Square Garden with more than 20 crew members to shoot a short scene during the Celtics-Knicks game.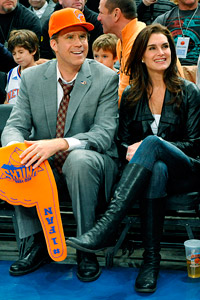 "I think he [Robinson] has every one of Will's movies memorized," said the movie's co-writer Chris Henchy. "Mark, Will and Adam [McKay, director and co-writer] are such NBA fans, I think as giddy as [Robinson] is to come by the set, he walks away and they go, 'Nate's on our set!'"
Robinson impressed the director so much he even gave him a cameo in the film, which stars Ferrell and Wahlberg as two detectives. During an explosion scene, Robinson runs over to an injured Ferrell and Wahlberg to steal their wallets. It's a brief scene for Robinson, but is perhaps the beginning of a comedy career for one of the NBA's most entertaining characters.
Assuming the scene makes the cut, Robinson wouldn't be the only New York athlete featured in the film, which is scheduled to be released in August. Derek Jeter also makes an appearance -- and an even more dramatic exit. "Mark has accidentally shot Derek Jeter while on duty," Henchy explained. "It's becoming a crazy cast."
Sunday's scene at the Knicks game, which will likely last less than 30 seconds in the film, was based around Ferrell and Wahlberg, who are bribed with courtside seats to not go after a case. While flirting with Perez and Shields, they realize halfway through the game that they've been bribed and abruptly run out. Ferrell was decked out in a traffic-cone orange Knicks hat and a gray suit for the scene, while Wahlberg, a Boston native, didn't seem to mind wearing Knicks garb for the film and sported Danilo Gallinari's No. 8 jersey.
Wahlberg and Ferrell left once the filming wrapped up following halftime after shooting the scene more than a dozen times, but Shields, Perez and Henchy stayed to watch from the front row while sitting next to "30 Rock" star Tracy Morgan and director Spike Lee.