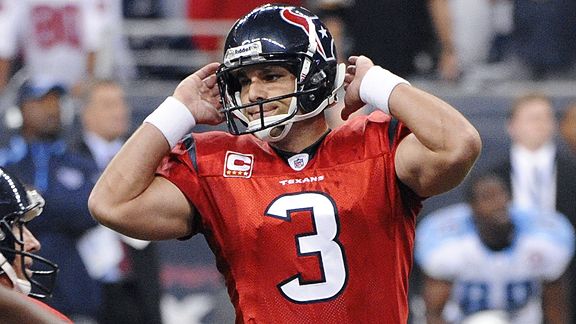 The Houston Texans have had four end-of-game failures this season, all by men of one name. Well, kind of. It hasn't been a good year to be named Chris Brown or Kris Brown.
Week 3: Chris Brown fumbles at goal line versus Jaguars
With the Texans down 31-24 and 2:10 left in the fourth quarter, Chris Brown fumbles the ball into the end zone, and Jacksonville recovers. Houston challenges the play, but the call stands, and the Jags win.
Week 5: Chris Brown stopped at goal line versus Cardinals
After trailing 21-0 at halftime, the Texans charge back in the second half in Arizona. A big kickoff return by Andre Davis gives the Texans great field position, and Houston marches downfield before being stopped three straight times from the Cards' 1 -- on the last of which, Chris Brown is stopped for no gain on fourth and goal.
Week 9: Kris Brown misses 42-yard FG as time expires versus Colts
Starting at their own 15-yard line with 1:46 to go, the Texans drive to the Indianapolis 24 with a chance to kick a tying field goal against the unbeaten Colts with one second left. Kris Brown, who was 10-for-13 from beyond 40 yards in 2008, misses wide left, and the Texans lose 20-17.
Week 11: Kris Brown misses 49-yard FG with 0:06 left versus Titans
Again down 20-17, the Texans drive to the Tennessee 31 with a chance to kick the tying field goal with six seconds left. For the second week in a row, Brown lines up and misses wide left, and Houston drops to 5-5.
We won't even get started on R&B singer Chris Brown …