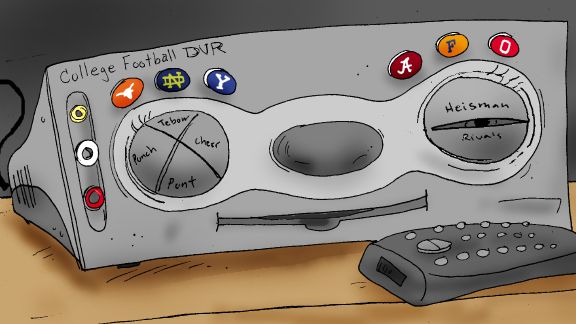 Time to cue up The College Football DVR, where -- depending on whim -- we'll look back, forward or just let things play, always in quick succession.
PLAY: Welcome to Rivalry Week! Texas A&M hosts Colt McCoy and the No. 3 Texas Longhorns on Thanksgiving. Despite his impressive résumé, McCoy is 1-2 against TAMU and was carted off the field with an injury in the 2006 game, leading Aggies fans to dub him "Cart McCry."
PLAY: According to reports, an irate Notre Dame fan sucker-punched Jimmy Clausen at a South Bend restaurant following the team's loss to Connecticut last Saturday. No one was arrested, but authorities are currently looking for this man in connection with the alleged altercation.