For God's sake, get out! So goes the movie poster tag line for the 1979 thriller "The Amityville Horror" -- a tag line that also could apply to Miami Dolphins running back Ricky Williams.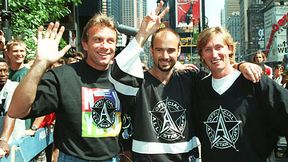 According to reports, Williams and former NFL player Rudi Johnson are co-owners of a new South Beach restaurant, which opened Tuesday. To which we say: good luck. You'll need it. After all, the restaurant business is brutal -- Los Angeles Clippers NBA draft track record brutal -- with a failure rate of 57 to 61 percent, a figure that includes shuttered establishments from Bernie Kosar, Brett Hull, George Brett, Don Mattingly, Jeff Conine, Jim Kelly, Johnny Bench, Larry Bird, Lawrence Taylor, Pete Rose, Ronnie Lott, Wilt Chamberlain and ... frankly, we're tired of typing. But you get the point.
Having surveyed the wreckage of the athlete-restaurateur landscape -- the finest jocks of multiple generations, destroyed by mediocre steaks -- Page 2 offers a few pointers to Williams and other Gordon Ramsey wannabes.