Some people -- specifically, Michael Jordan's undead legion of media sycophants, reflected glory addicts and folks who still care about $200 basketball shoes -- like to joke that the only person who could stop the former NBA superstar was his college coach, Dean Smith.
These people are wrong.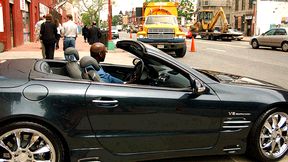 In reality, two individuals memorably put the kibosh on Jordan. One is Smith. The other is former Washington Wizards owner Abe Pollin, who died Tuesday at 85. The latter is more interesting, because while Smith trumped Jordan through power and authority, Pollin earned a checkmate the old-fashioned way: by playing the hoops assassin like a wind-up toy.
A recap: In 2000, Jordan bought a 10 percent share of the Wizards and became the club's president of basketball operations, then sold that share to make a comeback the next season. Problem was, the team floundered on the floor (compiling a 110-179 record with Jordan), suffered from lousy decisions (drafting Kwame Brown, hiring Leonard Hamilton, trading Rip Hamilton) and endured a front office schism between Pollin loyalists and Jordan's handpicked lackeys. Also, Jordan often seemed more interested in golf, cigars, travel and golf than in mismanaging running the club on a day-to-day basis.
Nevertheless, Jordan fully expected to resume his executive position following his third and final retirement. Pollin said no. He evaluated Jordan's mediocre performance. Noted the franchise's internal dissention. Had the guts to kick the most celebrated person on Earth to the curb -- almost literally, as a convertible-driving Jordan sped off from the team's arena in a humiliated huff, never to be seen again -- even as local media savaged him for the move.
Did Pollin plan things that way? Did he take advantage of Jordan's insatiable playing itch, enjoy two seasons of profitable sellouts and No. 23 Bullets throwback jerseys, and then dump a sucker who should have known better? Maybe. I like to think so. Regardless, Pollin won. And it was beautiful. Illuminating, even. The lessons for the rest of us? Beware hubris. Get things in writing. Don't mistake checkers for chess. And never, ever assume skill at bouncing a ball makes you smarter than the guy who built the court.