It's been an amazing year for Chris Daughtry and his band: There's a No. 1 single, "No Surprise," off the group's second album, "Leave This Town," which also went to No. 1; they're on a nationwide arena tour this fall; and Thursday, the band will perform a medley of songs during halftime of the Dallas Cowboys' game against the Oakland Raiders.
The band's performance is the official kickoff of the Salvation Army's 2009 Red Kettle Christmas Campaign. It's been nearly 120 years since the Salvation Army began standing on street corners with iconic red kettles accepting donations to help the needy.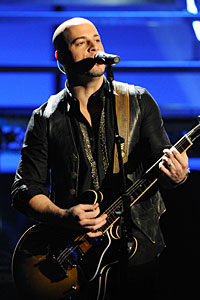 Page 2 caught up with the band to talk about football and, of course, food.
Chris, are you excited to be performing on Thanksgiving Day? And who are you rooting for?
Yes, it's an honor! Cowboys, baby!
I assume the band's big sports fans because you've played at the Indy 500, NCAA basketball tournament, and some MLB and NFL games. What is your favorite sport?
Depends on who you ask. I would have to say football. It's aggressive and mean … like us. Hahahaha.
The band has been on the road forever. How can you celebrate holidays if you're always on the road?
We get together and have a great dinner and just hang out. This year, we'll celebrate on the Cowboys field!
Have a favorite Thanksgiving memory?
I don't remember a specific Thanksgiving, but every year was family and great Southern cooking at my grandma and grandaddy's house. And then an amazing nap.