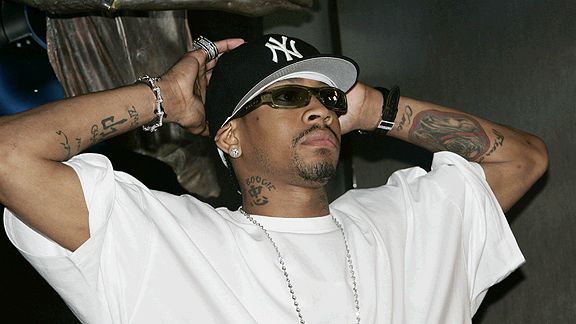 Game over. Say good night. When Allen Iverson announced plans to retire from pro basketball, he cited a desire to spend "quality time with my wife and kids." Which means there's zero chance he's coming back. Right?
If history is any guide, probably not:
Michael Jordan
Retirement: Stunned basketball world by walking away from NBA in 1993 … at age 29 … on the heels of three consecutive championships. Um, ?como?
Rationale: "It's time to be a little unselfish in terms of spending more time with my wife and kids."
Return: Spent his only year of retirement playing -- and we use the term loosely re: hitting the curveball -- minor league baseball with the Birmingham Barons, then returned to pro hoops. When Jordan said "a little," he really, really meant it.
Stan Van Gundy
Retirement: Quit as Miami Heat coach in 2005, a decision that had absolutely nothing to do with Pat Riley's talk about taking a more hands-on role with a title contender.
Rationale: "I've got a 14-year-old daughter and it started to hit me when I started thinking about her birthday, which was last month. I've got four more years left with her. Four. And then she'll be off to college and I'm just not willing to sacrifice any more of those four more years."
Return: Hired as Orlando Magic coach in 2007, stunning worldwide mathematical community with proof that 2 = 4.
Mike Holmgren
Retirement: Stepped down as Seattle Seahawks head coach following 2008 season; as a farewell gift, team gave him a red Harley motorcycle.
Rationale: "It's not what I'll miss, it's what I'll gain. I'll gain a lot more time with my family."
Return: Recently told a Seattle radio station he would be interested in taking over the struggling Cleveland Browns. So much for family. And that chopper.
Kim Clijsters
Retirement: Grand Slam champ and world No. 4 announced sudden retirement in the spring of 2007, ending a 10-year career.
Rationale: Cited chronic injuries, as well as it being "time for a new life. Time for marriage. Time for children? Time also to relax and to play with my dogs. And especially to spend a lot of time with my family and friends."
Return: After marrying and having a child, she resumed play this spring; capped year by winning U.S. Open. Changing diapers is so overrated.
Michael Jordan, Take 2
Retirement: Capped another run of three consecutive championships by leaving NBA for the second time in 1999.
Rationale: "Now, I just want to enjoy my time with my family and friends, just recapture some of the time I gave away."
Return: Time-recapturing agenda as lasting as Bush administration's "ownership society" initiative, as Jordan became Washington Wizards president of basketball operations in 2000, then returned as a player in 2001.