So I'm kicking back on Wednesday evening, getting ready to start my holiday weekend by having a couple beers and watching some basketball. My options were the UConn-LSU game, or the Magic-Heat game.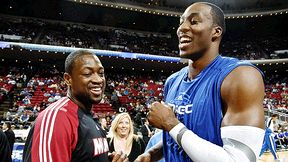 Nine times out of 10, I'll pick college hoops. But for some reason, I decided to go with the NBA for a change.
What a mistake.
I flipped on the game just as it was getting ready to tip off. The respective starting fives had just taken the court. And I have to say, I was disgusted by what I saw. The opposing players were all smiles, laughing, exchanging jokes and pleasantries, hugging and embracing one another -- it was as if they'd all just been rescued from a desert island or something.
Heck, it even appeared that Dwyane Wade and Dwight Howard had their own choreographed routine, capped off by Wade's leaping up to bop Howard in the shoulder.
YOU GUYS PLAY ON OPPOSITE TEAMS!
Call me crazy, but I miss the days when players just slapped hands, or gave a brief handshake before tipoff. Show me some cold, icy stares. I know it's early in the abominably long NBA regular season -- but these two teams are in the same division, and will be battling all season long for a division title and playoff position. Where is the friggin' intensity?
The game ended up with a great finish. But it was ruined for me at the start.