You might be a hippie if your hair contains a full functional eco-system. And you might be a hippie if people on the street ask you about marijuana.
If both are true, you just might be the captain of Real Salt Lake, the 2009 MLS Cup champions.
Page 2 chatted up Kyle Beckerman to get to the bottom of his roots.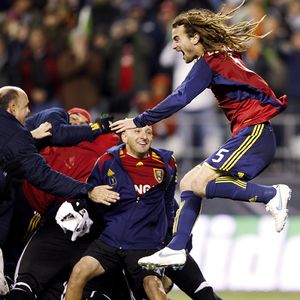 Page 2: Do you object to the media's free-spirit insinuations?
I don't care. I think it's all just because of my hair, but it's cool. People that get to know me know what type of person I am and what I'm about. I just try to be a good person.
Here's the test: Do you live in a household with more than three regular houseguests?
No. I do have two roommates, though.
And when was the last time you had a haircut?
Six years ago.
What's your favorite Marley song?
How about a Top 3? I'll go with "Concrete Jungle," "Ambush in the Night" and "The Heathen."
Quick, what's Bob Marley's full name?
Robert Nesta Marley!
Correct. And what's your favorite Dead song?
Uhh, riding that train.
Hmm. That's a hippie demerit because I think you mean "Casey Jones".
Are you stoked the MLS season is over so can hop on the tail end of the Phish Tour?
Ha! No. I've actually never been to a Phish concert.
Interesting. Have you attended an outdoor music festival in the last year?
No. But an outdoor concert, yes.
What was it?
It was Ziggy Marley.
Yeah, sorry, Kyle; if it looks like a duck…