The Atlanta Hawks debuted their red "ATL" alternate uniform on Thanksgiving night. It's the NBA's second uniform to feature an airport code on the jersey (the first team to do this was the Suns), which is enough of a mini-trend to raise the following question: What if more teams wore their local airport codes?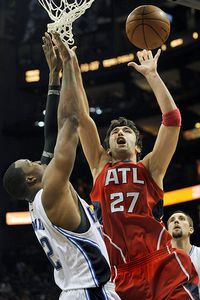 For some teams, it seems like a natural fit. LAX, for example, could work equally well for the Lakers (they could pronounce it "lakes" and promote it as a new team nickname) or the Clippers (what is that franchise if not lax?). Other teams might be better served by moving. Take the Timberwolves: In the Twin Cities, they'd be stuck wearing MSP, but move them to Mehamn, Norway, and they can wear MEH -- perfect.
This approach would also present great promotional opportunities. Consider it: Airport Night at the arena. Moving sidewalks to bring fans to their seats. Instead of hot dogs and beer, you sell Cinnabon and duty-free bottles of Johnnie Walker. Instead of the usual cheesy merchandise and souvenirs, you sell those neck pillows and black eye masks (these might come in particularly handy for the Nets). Every fifth fan can enter the arena without having to take off his shoes.
The possibilities, dear readers, are endless.