I traveled to Germany in search of Dirk Nowitzki.
OK, that's not exactly the reason for my trip, but I figured I'd see how popular he was in his home country.
Considering Nowitzki, who is averaging a career-high 27.1 points this season, is one of the poster children for the NBA's globalization, I assumed some sign of him wouldn't be too hard to find.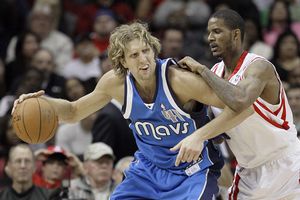 I was completely wrong.
Searching German newspapers, magazines, billboards, newscasts, subway ads and storefronts during my weeklong quest to find the NBA star, I found:
• Kevin Costner, George Clooney and Alice Cooper shilling various products in those European-only commercials you always hear about.
• Dennis Rodman skipping out on a $5,000 tab at a Berlin hotel.
• An "Ultimate Fighter" marathon. Just one of the many subpar television shows we export each year, giving the world a true taste of all we value in America.
• 500 Starbucks.
• One small blurb about Nowitzki putting up 32 points to lead Dallas to a win over Milwaukee on Nov. 16.
Seriously?
"During something like the Olympics, then he's a big deal, or at the end of the season when it's the playoffs," a German colleague told me. "… Usually he's like the guy next door. He doesn't do things like Rodman. He's just not seen as that exciting."
I didn't necessarily expect him to be the German equivalent of China's Yao Ming, plastered over every possible surface and pitching every product, but I figured Nowitzki would be somewhere.
Oh, well, Dirk, you'll always have Dallas.