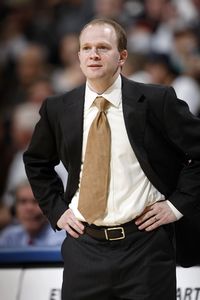 Fore: What we'll shout the next time we're heading toward the fire hydrant beside our driveway.
Iverson, Allen: College: Georgetown. One of only two Hoyas to leave school early under John Thompson. No. 1 pick 1996 NBA draft, Philadelphia 76ers. Rookie of the Year, 1996-97. Two-time All-Star Game MVP. League MVP, 2000-01. Hates to practice. Won't come off bench. Retired (?).
Frank, Lawrence (right): Born 1970. Attended Indiana University; served as basketball manager for coach Bobby Knight in early 1990s. Head coach New Jersey Nets, January 2004-Sunday. Set NBA record by winning first 13 games as coach. Was second-youngest coach in league.
Sportsmanship: Playing a game with dignity, class and respect, and exhibiting same toward opponents, e.g., Max Hall of BYU after beating Utah, "I think the whole university and their fans and the organization is classless. … I don't respect them and they deserved to lose. I don't like Utah. In fact, I hate them. I hate everything about them. I hate their program, their fans. I hate everything."
Horned Frog: Mascot of Texas Christian University. Will not be seen on field during BCS title game.