If you don't live on the West Coast, you probably slept (or drank) through the finish of the USC-UCLA game Saturday night. If you do live on the West Coast, you probably didn't see it either because you had long since changed the channel in order to watch one of those murder-investigation shows. (Is Pullman, Wash. part of the "CSI" franchise yet?) That's if you even turned that game on in the first place. Heck, the only reason I listened all the way to the end was that I was driving home from my parents' house and needed to kill time.
Fortunately, the ending more than justified what had been a long, boring and virtually meaningless game.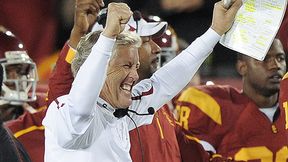 Here's what happened. With less than a minute left, USC led 21-7, had the ball at midfield, and was ready to take a knee and run out the clock. UCLA coach Rick Neuheisel, however, decided this was the perfect opportunity to call a timeout and prolong the agony for his team/impress recruits with his "Never say die until you drop unconscious from repeatedly banging your head against the wall" attitude. The ridiculous timeout upset USC coach Pete Carroll so much that he put down his strawberry-banana smoothie, kicked off his flip-flops and decided that, dammit, two can play this game. So instead of having quarterback Matt Barkley take a knee, he called a long pass play that resulted in a 48-yard touchdown to make the score Salt 28, Wound 7.
Both coaches are being blasted for poor sportsmanship, but I applaud Carroll for the call. This wasn't running up the score. This was teaching a hated rival a lesson. Neuheisel needlessly wanted to keep the game going when his team had absolutely no chance of rallying? Fine. Face the consequences. And then start working on your pregame speech for next year.
Rather than condemn such behavior, we should encourage the passion and hatred that spark it. Such petty, spiteful, malicious, immature behavior is what separates college football from the bland, corporate, soulless NFL. College rivals should loathe each other. They should infuriate each other. They should taunt, demean and ridicule each other until every square inch of cork is covered on the locker room bulletin board. They should make each rivalry game's outcome justify a Costco-sized can of payback the next season.
That means coaches, too. After all, the fans can't be responsible for all the really futile and stupid gestures.
Which reminds this Washington alumnus: Nice game, Washington State fans.