New York-based prank posse Improv Everywhere recently decided to reprise its Yankee Stadium "Rob!" mission at a recent New York Knicks game. (Click here to view the hilarious results.)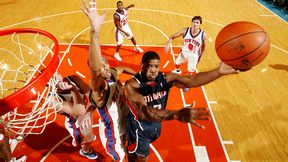 Realizing the wealth of knowledge that mischief maestro Charlie Todd and his group possess, I tagged along for a crash course in stuntery.
Do keep things simple
The stunt involved actor Rob Lathan making a food run, getting lost, and not hearing us yell for him. Success meant getting nearby fans to help us hail Rob. Failure meant having to watch a Knicks game for no reason.
Do smuggle smartly
Arenas have strict rules about the types of cameras allowed inside. If you're going to bring in primo recording gear, you'll need to be a crafty concealer. As photographer Katie Sokoler learned, putting a camera in a bag beneath women's undies and tampons will ward off the probing hands of squeamish security.