With Cowboys Stadium in the running for the Mayweather-Pacquiao fight in 2010, let's call Jerry Jones "The Landlord." As long as we don't call him collect, Jones is probably OK with that.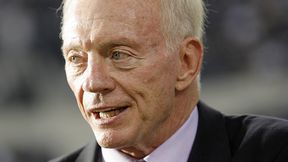 Since Jones has booked more championship events for his stadium in one year than his team has won playoff games in 13, it's time for a re-evaluation.
Owner of the Cowboys? That's side work. Jones is officially the owner of Cowboys Stadium.
He wants to be two things: rich and famous. He brags that he would have become a coach had there not been so much money in oil, making it clear what his priorities were, are and will be. If a doctor could reconfigure his face into a five-point star -- and Jones may have looked into this -- he'd put his portrait at midfield of JerryWorld.
Why shouldn't he? Jones built a coliseum so decadent that it's simultaneously the best place to watch a football game live and on television. As the Cowboys' glory days get smaller in the rearview mirror, Cowboys Stadium becomes Jones' legacy.
It's the Super Bowl. It's the Final Four. If Jones books the Fight of the Millennium, it might as well be Vegas. It's everything Jerry wants to be, in a way the Cowboys could never be as long as Jerry Jones is calling the shots.
That's why he's now "The Landlord." It's got a ring to it. When's the last time someone said the same about America's Team?