The January issue of Golf Digest features a Photoshopped image of Tiger Woods caddying for President Obama with the headline: "10 Tips Obama Can Take from Tiger." Yes, really. And, yes, the issue obviously closed before the recent … unpleasantness.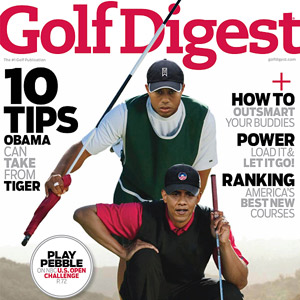 What might those 10 tips be? Here's a guess.
10 Tips Obama Can Take From Tiger
1. Cherish your chauffeur -- Not all rich and powerful men have someone whose job it is to drive them around. You are lucky. You don't know how hard it is sometimes to make it out of your own development unscathed. Trust me on this.
2. Pick an intimidating shirt/tie color -- On Sundays I wear red. It shows that I mean business. You need to do the same when you're trying to push through a piece of legislation. Have you considered a Congressional Red or Senatorial Black? How about a Veto Green?