In the spirit of Zinedine Zidane's World Cup headbutt, Tiger Woods' infamous Thanksgiving drive has now been immortalized with the true badge of honor in the digital age: In a video game.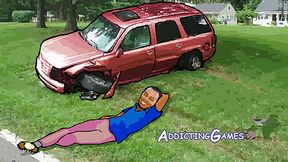 Thanks to the folks at AddictingGames.com you can play the "Tiger Parking Slam."
What's it all about? Here, we'll let Addicting Games tell you: "Get behind the wheel in Tiger Woods' exclusive Florida neighborhood and try to win the Parking Grand Slam. Overcome unexpected obstacles like trees, fire hydrants, paparazzi, police, enquirer reporters, and a familiar looking blonde swinging golf clubs at his ride to park successfully in four different driveways and you win!"
Congratulations, Tiger. Forget all those majors. Now you've arrived.