If you're ever eager to start a vigorous argument, just tell someone that his favorite sports movie is not your favorite sports movie.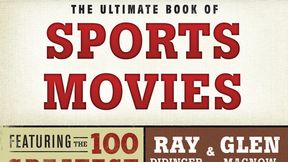 "How do you not go with 'Field of Dreams'?" University of Connecticut hoops coach Jim Calhoun challenged us. "Every warm-blooded American who ever had a catch with his dad has to put that at the top of his list."
Umm, sorry, Coach. Consider us reptilian.
Not that we don't love "Field of Dreams". We do. It's just that after viewing nearly 300 flicks to assemble "The Ultimate Book of Sports Movies," we found a few others we love even more. Ten others, to be precise.
Our book ranks the 100 greatest sports films of all-time. You won't agree with all our choices, we can promise you. But that's the fun of it. You may detest one Paul Newman classic, yet adore another. Hey, both of them make our Top 10.