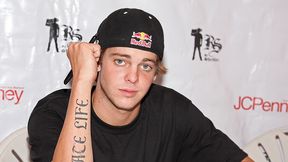 Earlier this decade, Ryan Sheckler was out winning skateboard comps at age 13 (making him the youngest X Games gold winner ever). The struggle to outshine young Sheck commenced immediately, but the kid never let up; season after season, he steamrolled through street courses and Dew Tour stops. Not even a broken elbow could keep him away from another gold at X Games 14. But this past summer, at XG15, Sheckler was snared midcompetition by a torn ligament between his toes. That injury sidelined him for the past five months, and although his skills are surely missed, those three screws in his right foot are about the only reason the Red Bull rider, ESPN The Mag cover boy and "Life of Ryan" MTV reality star finally had a second to sit down and talk to us. Here's what's happening from his home in Southern California.
How is life after "Life of Ryan"? Is it weird living without constant camera surveillance?
Nah, having the cameras around never really bothered me, actually. I liked it. The show feels like it was a while ago, though. It's all just a another chapter now, you know? That was that. It ended with a clean break, and when it did, it gave me time to really focus on my skating. It's all good.