It's time for the Monday edition of the Page 2 Podcast so here is a little rundown to help you get started: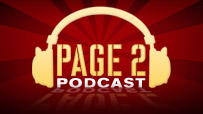 Quien Es Mas Macho?
Bruce Gradkowski vs. Vince Young
Page 2 Game Ball
Congratulations to the New England Patriots
Stay Classy
Thanks for making our jobs easier, Roy Williams
Final Countdown
Three: From the score to the goal line to this week against the Saints it's all about the trey for the Cowboys.
Two: The Knicks keep things balanced on the court and in the front office.
One: Tiger and Accenture part ways ... but should they?
All the stories worth talking about Monday are right here so … Click here to listen up!