DeSean Jackson put on an electric performance Sunday night, scoring on both a breathtaking punt return and a deep pass down the field. But his greatest moment came on the sideline, when he rushed toward coach Andy Reid and got him to engage in the ubiquitous flying-back-bump celebration that's become all the rage. Of course, Reid couldn't get quite high enough, so it ended up resembling a kid hitting the wall in a moon bounce. But he still gets an A-plus-plus for effort.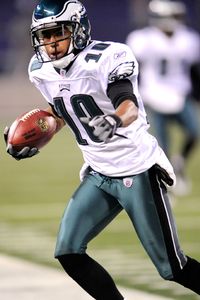 AP Photo/Bill KostrounDeSean Jackson did plenty of celebrating Sunday night.
Here's hoping the Reid-Jackson bump ushers in a new era of coaches creatively celebrating touchdowns with their players. Sure, it might lead to enough fines to build a stadium in Los Angeles, but it would make the NFL even more fun to watch. Here are a few suggestions for coaches to try:
• Bill Belichick: Reach into sock, pull out cell phone with video capabilities, secretly record the celebration taking place.
• Mike Smith: Two words: Dirty Bird.
• Norv Turner: Rush out onto the field and lift Darren Sproles up so he can dunk over the crossbar.
• Jim Zorn: Turn clipboard around and unveil bingo card to camera.
• Mike Singletary: Challenge player to Pants-Off Dance-Off.
• Josh McDaniels: Do the up-top down-low double high five you remember from that movie you saw when you were 10.
• Marvin Lewis: Meet Chad Ochocinco on the sideline, perform choreographed two-man Riverdance.
• Rex Ryan: Greet player with nearly empty pizza box, wipe sauce from mouth, offer him remaining slice.