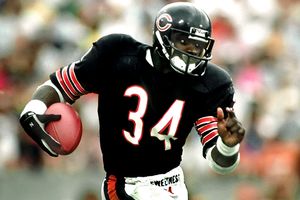 US PresswireWhat sweeter gift than Sweetness himself?
It is the most wonderful time of the year, if you ask me. There are some notable songs to that effect as well, I believe.
But it's also one of the most frustrating, confusing, stressful and fattening times of the year, too. Mmm, cookies.
One of the issues many of us deal with around the holidays is what to get that certain someone. And while I can't help you untangle lights or navigate a mall (and whatever you do, don't ask me to wrap any gifts), I can help you with a little shopping.
Every NFL team has an unforgettable and beloved player, and getting that player's jersey for your special NFL fan will surely be one of their favorite gifts.
Deep down, though, we also fear giving a gift that will make people long for fruitcake. So while I'll help you pick out that perfect jersey, I'll also warn you about the duds.
Hey, it's the least I can do.