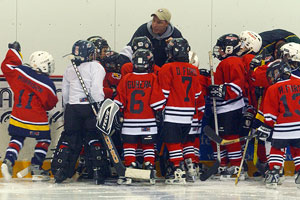 AP Photo/RonHeflin
Today, kids, teenagers, adults and Sean Avery don't so much stare up to the trees, clouds, airplanes, stars and 6-foot-9 NHL linesman Mike Cvik as much as they used to; now, most stare down at their cell phones and personal digital assistants (Jim Balsillie's PDA BlackBerry, yo). As a result of all this "looking down," we miss so much up in the heavens. We even look down at these things during dinner, hockey games and Heisman Trophy presentations. People even look down at their PDAs while they drive. Who needs a moon roof on a clear summer night when I can play Tetris on I-95 while I soar through the E-ZPASS lane?
This is my gigantic preamble to why you should one day sign up your young son or daughter to play youth hockey at a local rink near you. If nothing else, it gets them away from electronics and teaches them a small slice of humanity that they can take forward through life, a life with more heart and less battery power. The rink's cold robs electronics of their battery power and signal reception, anyway.
So, if you are a first-time hockey parent, or dream of one day spending more than $10,000 and sacrificing weekends for a decade of glamorous youth or "minor" hockey, here are 13 important things you need to know about the youth hockey universe -- and hockey in general -- to help speed up the assimilation process in joining the "Congregation of Independent Insane in the Membrane Hockey Community Union" or COIIITMHCU. If you move those letters around you eventually get Chicoutimi. A miracle from the star-filled heavens above.