It's time for the Wednesday edition of the Page 2 Podcast so here is a little rundown to help you get started: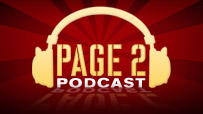 Quien Es Mas Macho?
Tiger Woods (laying low) vs. Tiger Woods (listening to the boys)
Page 2 Game Ball
It's all you today, Clinton Portis
What Choo Talkin' About?
Jim Leavitt's sphere of influence
Final Countdown
Three: Don't worry fans, umps and players -- Mr. Selig will talk to you soon enough about your concerns.
Two: Apparently you can't spell Big 10 without adding a two.
One: A dirty soccer ref? Macedonia? Canada? Not your standard combination.
All the stories worth talking about Wednesday are right here so … Click here to listen up!