Mike Holmgren visited the Browns' facility to gauge his interest in taking over the team's football operations. In spite of the Super Bowl win on Holmgren's résumé, head coach Eric Mangini says he wasn't bothered by the visit. Spoken like a man with a guaranteed contract.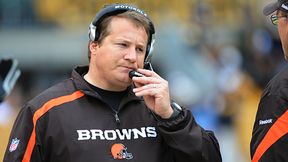 If Mangini wants to stay on the job, he may want to think again. Page 2 got a look at Holmgren's notes from his visit, and they don't bode well for the current boss.
1. Have coach's office swept for bugs.
2. Order sturdier chair in the head coach's office.
3. Order coaches' gear that goes better with glasses and mustaches.
4. Call Favre. Remind him how familiar he is with the offense.
5. Gas up the chopper and Escalade, just in case.
6. Get LeBron's number from the Rolodex before Mangini takes it with him.
7. Jim Brown's, too. Need someone younger than Jamal Lewis.
8. Ask old buddy Sherm Lewis if he'd like to interview for the head-coach position. Bingo!