As painful as it is to write (and for many to read), the decade's best team is the franchise that has dominated so many of the past nine decades, and the team likely to dominate the next decade as well. The New York Yankees.
Feel free to curse.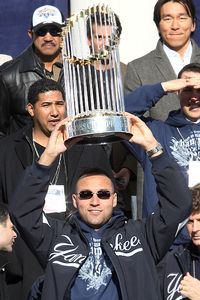 Jim McIsaac/Getty ImagesDerek "Mr. November" Jeter got to do this twice this decade.
No other team is close. No matter the criteria, the Yankees come out on top. The Yankees won the first World Series of the decade, and they won the last. They played in two others. They won their division eight times and reached the postseason nine times. They won 45 games more than the nearest team. They've featured some of the greatest players in history (Alex Rodriguez, Roger Clemens, Derek Jeter). They had the decade's best closer (Mariano Rivera) and some of its best starters (Clemens, CC Sabathia, Andy Pettitte). They opened the most expensive stadium in history and were so good, fans paid $2,500 for a ticket to see them. Well, a couple of fans did.
Sorry, Red Sox fans. Yes, your team finally won a World Series in 2004 (thanks for not going on and on about that.) Yes, you matched the Yankees' decade output with another championship in 2007. And yes, Red Sox Nation grew so large that Lonely Planet should have a guide to it ("Entry requirements to Red Sox Nation include a platinum Visa card, a tetanus shot and a 'Jeter Sucks!' t-shirt").
But Boston failed to reach the playoffs four times and got swept in the first round twice. The Red Sox won their division only once and finished ahead of the hated Yankees only twice.
Plus, there was that whole "Fever Pitch'' thing.