The "Greatest Story Ever Told" is about Jesus himself, but these days you'd half-expect to find that title on a bookseller's sports shelves. A quick glance at the genre shows many true, real and seemingly impossible epic tales of triumph, glory and agony. Way, way too many, actually. Here, our survey of the most hyperbolic sports book titles currently in print.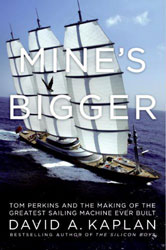 Some highlights:
Mine's Bigger: Tom Perkins and the Making of the Greatest Sailing Machine Ever Built

The Last Season: A Team in Search of Its Soul

Lance Armstrong's War: One Man's Battle Against Fate, Fame, Love, Death, Scandal and a Few Other Rivals on the Road to the Tour de France

Where They Ain't: The Fabled Life and Untimely Death of the Original Baltimore Orioles, the Team That Gave Birth to Modern Baseball

The Girls of Summer: The U.S. Women's Soccer Team and How It Changed the World

See the complete list for 45 more hilariously hyperbolic titles.