Let it go, Saints fans. So you lost a game. So the dream of perfection is gone.
You're still 13-1. Still looking prettier than coeds during Mardi Gras. Considering your franchise's history, grumbling about a loss in the midst of a 13-1 season makes you look petty. Consider: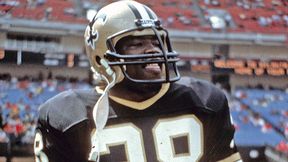 Al Messerschmidt / NFL / Getty Images
• The Saints drafted Heisman winner George Rogers (pictured at left) with the first pick in the 1981 draft. It wasn't a terrible pick -- Rogers led the NFL in rushing as a rookie -- except Rogers admitted to cocaine use after the season, was never as good again and was traded to the Redskins after four seasons … and the second pick in that draft was Lawrence Taylor.
• Archie Manning is sort of a Saints legend. Manning never played on a winning team in his NFL career. His record as an NFL starter: 35-101-3. Manning had six TD passes and 16 INTs in 1974. He followed that up with seven TD passes and 20 INTs in 1975. He led the team to a 1-15 record in 1980. True, the talent around him wasn't exactly awesome, but it's possible that Archie Manning just kind of sucked.
• The 1978 squad finished 7-9, nearly becoming the first Saints team to finish .500 or better. Considering they lost six games by seven or fewer points and had sifted through four kickers in '78, it's no surprise they selected bare-footed boomer Russell Erxleben in the '79 draft. However, they drafted him 11th overall. And it turned out he couldn't kick (he attempted only eight field goals in his NFL career) and was later imprisoned for securities fraud and money laundering.
• The Tampa Bay Bucs lost the first 26 games of their existence. The team they finally beat: the Saints, who lost 33-14 despite outgaining the Bucs 250 to 238 yards. Of course, the Saints committed seven turnovers.
• The '73 Saints lost a game in which they finished with two first downs and minus-15 yards passing.
• It took the Saints 34 seasons before winning the first playoff game in franchise history. They're now up to two.