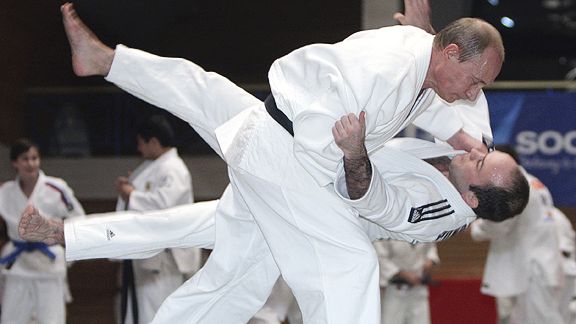 AP Photo/RIA-Novosti/Alexei DruzhininRussian Prime Minister Vladimir Putin shows off some of his judo moves.
Athletes are no strangers to politics. NBA Hall of Famer Bill Bradley served in the Senate and made a run at the presidency in 2000. Seven-time MLB All-Star Jim Bunning has been a member of Congress since 1987. Curt Schilling mulled a run at Ted Kennedy's seat in September.
But 57-year-old Russian prime minister Vladmir Putin flipped the tables when he offered the Russian national judo team an unusual holiday gift -- the chance to add him to the team. The Russian leader visited the squad for practice on Saturday, after which he volunteered to join.
That would be kind of like Barack Obama volunteering to join the White Sox after throwing out the first pitch. Or play point guard for the Wizards because he plays regular pickup basketball at the White House.
Sure, Putin released an instructional DVD on judo, but as far as anyone can tell, he has no actual competition experience that would set him up to be successful at fighting Olympians half his age.
However, I happen to be in a position to set a match up.
"Would I fight Putin?" asked Beijing bronze medalist Ronda Rousey, who also happens to be my sister. "Wait, who is that? Oh, the prime minister of Russia. Well, I mean if it all worked out, and we were both at the same tournament or something, sure, I'd fight him."
Mr. Prime Minister, the proverbial ball is in your court.