*Not including the team's insistence on keeping a racially insensitive nickname and mascot or becoming the last professional team to integrate, which they did only under pressure of legal action from the Kennedy administration.
10. Daniel Snyder hires Steve Spurrier, who is doomed to fail when he studies his first opponent on film and remarks, "That defense looks a little tougher than Vanderbilt's."
9. The 1959-1961 season, aka the Matt Millen years. In '59, the Redskins drafted Boston College QB Don Allard fourth overall. In '60, they drafted Penn State QB Richie Lucas fourth overall. In '61, they drafted Wake Forest QB Norm Snead second overall. In related news, the Redskins had two winning seasons from 1949 to 1968.
8. Lions 19, Redskins 14. Detroit snaps its 19-game losing streak. Fans start fondly remembering Richie Petitbon.
7. Lose 1940 NFL championship game 73-0 to the Bears. The team threw eight interceptions, committed eight penalties and allowed 519 yards. On the bright side, the Bears missed four extra points. It could have been worse.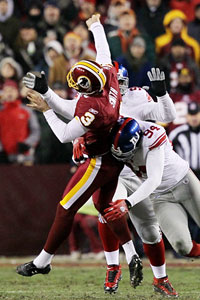 Al Bello/Getty Images'How did you see this play coming?'
6. Quarterback Gus Frerotte injures himself after slamming his head into a wall to celebrate a touchdown. At least the wall was padded.
5. Quarterback Joe Theismann throws a perfect screen pass to Raiders linebacker Jack Squirek for a touchdown in the 1984 Super Bowl.
4. Wide receiver Michael Westbrook is caught on camera attacking teammate Stephen Davis during practice. Considering the pounding Westbrook delivered, it became even more evident he had hands of stone.
3. The flea-flicker play that didn't quite work out way back in 1985.
2. Snyder buys team. Signs first free agent.
1. That excruciatingly awful fake/trick field goal attempt Monday night that will go down as the worst designed play in NFL history. Even Richard Nixon had a better playbook.