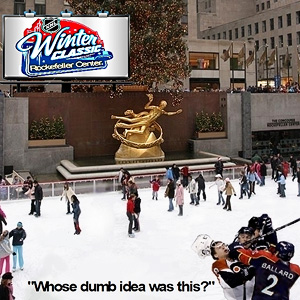 Page 2 will add another illustration for its 12 days of Christmas each day through Christmas Eve.
Today, we decided to spoof the sold-out NHL Winter Classic between the Boston Bruins and the Philadelphia Flyers on Jan. 1 in Fenway Park. The previous two games were held in Orchard Park, N.Y., and Wrigley Field.
How about this trivia: The winners of the past two Winter Classics -- Pittsburgh in 2008 and Detroit in 2009 -- went on to lose the Stanley Cup Finals.
So, technically, it's not so bad to lose this one.
See the whole holiday collection here.