FOR SALE
• One men's belt. NFL game-used. Silver and black. Size XXXXL. No longer fits. Obviously. If interested, please call Tommy Kelly in Oakland, CA.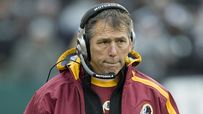 Jason O. Watson/US Presswire'If this doesn't work out, maybe I'll open an eBay store.'
• Regulation hockey sticks. We're playing against Martin Brodeur, so what's the point? Contact: Every team in the NHL.
• One page from a real NFL playbook documenting the worst fake field goal try in league history. Will autograph. Call or write J. Zorn.
• Aging, immobile, $12-million-a-year third-baseman whose bad thumb just happened to scuttle a deal he didn't want. Will consider trade. For anything. Please call Theo E. in Boston ASAP.
• One seat on Saints bandwagon. Will trade for seat on Eagles bandwagon. Also for sale: 10,000 t-shirts that read, "Who Dat Gonna Go 16-0"
• Homes for sale in NFL cities: Chicago, Cleveland and Washington D.C. Each owned by a soon-to-be-former NFL head coach.
• Tickets to the Mayweather/ Pacquiao fight! At Cowboys Stadium. Printed before the deal was done. Oops! Our loss is your gain. Neat collectors item. Call J. Jones in Dallas if interested.